Because I feel horrible about my bad attitude- whining over waiting post yesterday,, here is all the cuteness I was talking 'bout. Although the waiting is tough, I have nothing to complain about. I am one blessed Mommy.
Kobi was nominated for Terrific Kid award at her school. Her teacher wrote the sweetest thing about her... She said "In my many years of working with children of all ages I have never seen a child so genuinely giving, caring and willing to help others" Her teacher has been teaching for 2o+ years, and I could cry like a baby with pride over my little girl. I wish I could take credit for this child, but she teaches me how to be a better person. She is truly a gift from God!
This is Mina's "Puppy" she has either been wearing it or clutching it in her little paws for the last few days.  She always loves to wear hats... I think this one is a riot.  
And lastly, my new favorite recipe... Kung Pao Chicken,  it almost rivals PF Changs... It is so worth making, and OH so Yummy!!! Click
HERE
for the link with the recipe and photos, or here are the instruction below ( I personally Love a photo of what I am cooking up) I tripled the sauce ingredients and used fresh ginger, ooohh I love fresh ginger!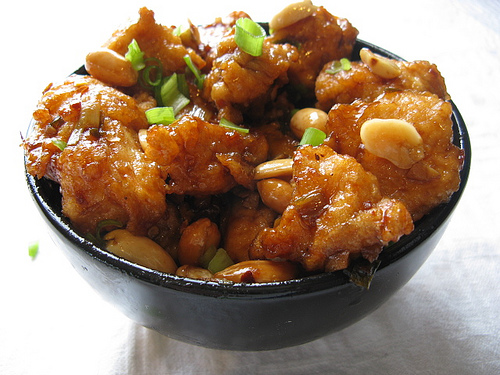 Ingredients:
1lb boneless-skinless chicken breasts (cut into 1" pieces)
1 tablespoon cornstarch
2 teaspoons sesame oil
3 tablespoons green onions (chopped)
3 garlic cloves (minced)
½ teaspoon crushed red pepper flakes
½ teaspoon powdered ginger
2 tablespoons rice wine vinegar
2 tablespoons soy sauce
2 teaspoons sugar
1/3 cup dry roasted peanuts
Cooking Instructions:
Step 1: combine chicken and cornstarch in a small bowl and toss to coat. Heat sesame oil in wok over medium heat, add chicken and stir fry 5-7 minutes or until no longer pink inside. Remove chicken from wok.
Step 2: Add green onions, garlic, red pepper flakes and powdered ginger to the wok and stir fry for 15 seconds.
Step 3: Combine vinegar, soy sauce and sugar in a small bowl. Mix well and add the sauce to the wok.
Step 4: Return chicken to the wok and coat with sauce. Stir in roasted peanuts. Heat thoroughly. Top with additional green onions if desired and serve over white rice.